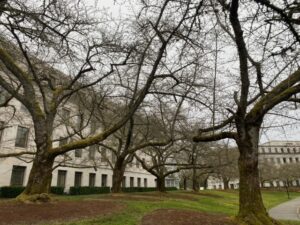 Trees anxiously awaiting the arrival of the Cherry Blossoms
(Photo Credit: Erica Hallock)
Trivia!
A shoutout to Julie Pederson, Executive Director of The Foundation for Healthy Generations, for this week's trivia content.
Which former legislator from Spokane was known for leading sing-alongs on the House Floor to add levity to late night sessions?
Revenue Forecast
On Monday, the State Economic and Revenue Forecast Council met to receive an updated revenue forecast from the State's Economist Dr. Steven Lerch. Dr. Lerch reported that the proposed revenue for the next two biennia is $1.024 billion below what was forecasted in November. This breaks down as $483 million lower than projected for 2023-25 and $541 million lower for 2025-27.
Total state revenues for the 2023-25 biennium are projected at $65.7 billion. In comparison, total state revenues for the 2021-23 biennium were $64.1 billion. Put another way, the state's revenues are only expected to grow by 2.4% between the 2021-23 and 2023-25 biennia. In contrast, state revenue grew by 20.7% from the 2019-21 biennium to the 2021-23 biennium (largely aided by federal COVID-19 relief funds).
The forecast estimates the Capital Gains tax will generate $942 million in 2023–25 and $1.069 billion in 2025–27.
During press availability following the revenue forecast, Senate Ways and Means Chair Christine Rolfes acknowledged that fewer resources will be available than were expected when the Governor's budget came out in December. She went on to say that this forecast was not unexpected, and while it makes budget writers cautious, it does not require a change in their game plan.
Major reasons for the slowing forecast include lower Real Estate Excise Tax collections than forecasted, slightly lower personal income growth and higher interest rates.
Senate Budget Detail and Next Steps
Earlier this week, the Senate released its proposed 2023-25 Capital Budget. After a public hearing on the proposed Capital Budget on Monday, the Senate Ways and Means Committee approved the proposal on Wednesday evening. It is expected to receive a vote by the full Senate on March 24.
On Thursday, the Senate released its proposed 2023-25 Operating Budget. The Senate Ways and Means Committee will hold a public hearing on the proposed operating budget beginning at 2 p.m. on March 24. The operating budget will be voted on by the Ways and Means Committee on March 27 and by the full Senate likely later that week.
On March 27, the House is expected to release both its proposed operating and capital budgets with public hearings shortly thereafter, followed by votes by the full House. All current and proposed budget proposals can be found on the Washington State Fiscal Information webpage.
Start Early Washington has prepared a chart summarizing and comparing how the various budgets addressed early learning related issues. Be sure to bookmark our resource page to access the chart and the House version following its release on Monday.
The next step in the budget process following votes by the bodies on their respective proposals is conference committees. Legislators from each body will be appointed to work through areas of differences and arrive at a single budget proposal that will go before both bodies prior to Sine Die (adjournment) on April 23.
With One Month Left, Early Learning Bills Keep Moving
Several bills related to early learning continue to move through the legislative process ahead of the March 29 policy committee cutoff, when all bills must be passed out of the policy committees of the opposite chamber.
A striking amendment (or striker) for House Bill 1550, which would convert the Transitional Kindergarten (TK) program to a Transition to Kindergarten (TTK) program, was heard this week in the Senate Early Learning and K12 Committee starting at 29 minutes. As you may recall from the Feb. 19 "Notes From Olympia," a "striker" amends everything previously included in the bill, replacing it with new content on the same subject matter. The HB 1550 striker heard on Wednesday would:
Change the name "Transitional Kindergarten" to Transition to Kindergarten (TTK) and place the program in statute (law).
Specify a funding formula for TTK using certain portions of the existing prototypical school funding model. Districts would consider TTK students as kindergarteners for funding purposes but would be required to report the TTK students separately.
Focus eligibility for children determined to benefit from an additional year of preparation before entry into kindergarten and require children entering the program to be at least 4 years old by Aug. 31 in the year of entry into TTK.
Ban school districts from charging tuition or excluding children with disabilities
Provide enrolled TTK students with a student identifier number for data tracking, and districts would be required to administer WAKids unless parents ask for an exemption.
Require the Office of Superintendent of Public Instruction (OSPI) to administer and adopt rules for TTK.
Require OSPI to design a process for the Department of Children, Youth, and Families (DCYF) to conduct site visits to provide feedback on early learning best practices and curriculum, as well as professional development opportunities. The striker language clarifies that these site visits do not provide DCYF with licensing or other regulatory or program authority.
Require participating school districts to conduct a local child care and early learning needs assessment before starting or expanding TTK. This assessment must consider the existing availability and affordability of other early learning programs in the service area.
The striking amendment differed greatly from the bill that passed out of the House. The committee heard opposition to the striking amendment, mainly from early learning providers, who cited the lack of TTK program requirements, quality standards and the need for collaboration with school districts to keep existing early learning programs in operation. Supporters of the striking amendment, mainly school districts, spoke to the access of care children receive through TK and the positive student outcomes TK fosters in many areas.
The bill is scheduled for a vote in the Senate Early Learning and K-12 Committee on March 27.
Bill Tracker: Key Early Learning Bills
As the legislative session progresses, our resource page will update with a weekly bill tracker. Please note that legislation changes quickly, so the version on our website may not represent a bill's latest version as it is published the Thursday of each week.