Echoing Resilience: Intertribal Canoe Journeys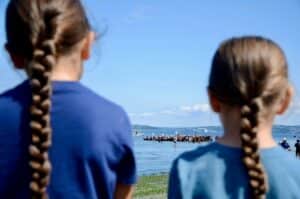 October celebrates Indigenous Peoples Day, honoring Indigenous People's legacy, traditions and invaluable contributions.
In the rich tapestry of Indigenous coastal communities of the Pacific Northwest, Canada and Alaska, the timeless art of canoeing embodies more than just transportation — it represents profound journeys that symbolize unity, resilience, and a deep connection to the land and the water.
Start Early Washington's Training and Technical Assistance Specialist Alex Patricelli shared how she reclaimed her Native culture and traditions with her young boys Mateo (6) and Kulani (4) through the celebration of intertribal canoe journeys at the 2023 Paddle to Muckleshoot.