What is home visiting?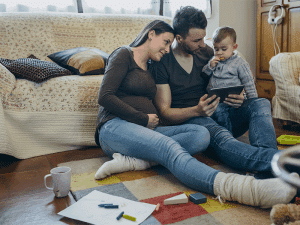 Parenting is one of life's most important roles but it's hard work and having someone in your corner can really help make a difference. By partnering with families from pregnancy or birth through a child's earliest years, home visitors support healthy parent-child relationships, promote child development, and encourage family health and well-being, laying a strong foundation for a child's learning and future success in life.
Home visitors put relationships at the center of their work – first building positive and trusting partnerships with parents and caregivers and working with them to build a strong relationship with their baby.
Understanding that families know best what works for them and what does not, home visitors partner with caregivers to determine what priorities and goals are important to them. Together they develop a plan for creating a nurturing and stimulating home environment for their newest member of the family. This could include parent supports, community connections, and child development activities that will help children thrive.