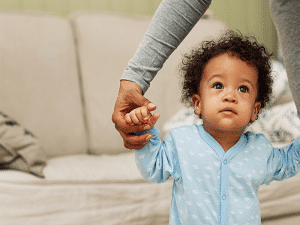 In addition to providing our own home visiting and doula programs for families living in under-resourced communities in Chicago, Start Early leads a Home Visiting & Doula Network that supports 30 home visiting programs throughout Illinois. This network allows us to scale our reach and impact by sharing our lessons learned with other community programs.
Rooted in the belief that a child's earliest experiences and relationships lay the foundation for future success in school and in life, the goal of home visiting is to improve developmental trajectories and ensure children can reach their full potential by supporting parent-child relationships as early as possible. Learn more about what doulas and home visitors do.
Each home visiting program in our network uses one of three evidence-based models: Healthy Families, Parents as Teachers or Nurse Family Partnership. There is a substantial body of research on these models demonstrating their effectiveness in improving outcomes for children and parents. We focus on providing technical assistance for the programs in our network, making sure they can implement the models correctly and effectively. We also help monitor results, ensuring the programs are constantly improving and providing the best support for families possible.
Start Early partners with the following community agencies to deliver home visiting and doula services to children and families across Illinois.