Home visiting supports have meaningful impacts on the lives of children and families. Start Early Washington supports new and existing home visiting programs with coaching, consultation, training and professional learning to ensure the highest quality home visiting services for families.
Our staff includes professionals whose expertise is enriched by lived experiences and practical knowledge. As one of our proudest achievements, Start Early Washington staff hold over 165 years of combined home visiting experience!
This blog post introduces our senior home visiting manager, Cassie Morley, who draws from nearly three decades of home visiting experience to oversee a talented team that supports 63 home visiting programs statewide.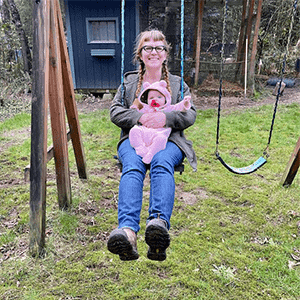 Cassie swinging with her 5-month-old granddaughter, Loveday (2021)