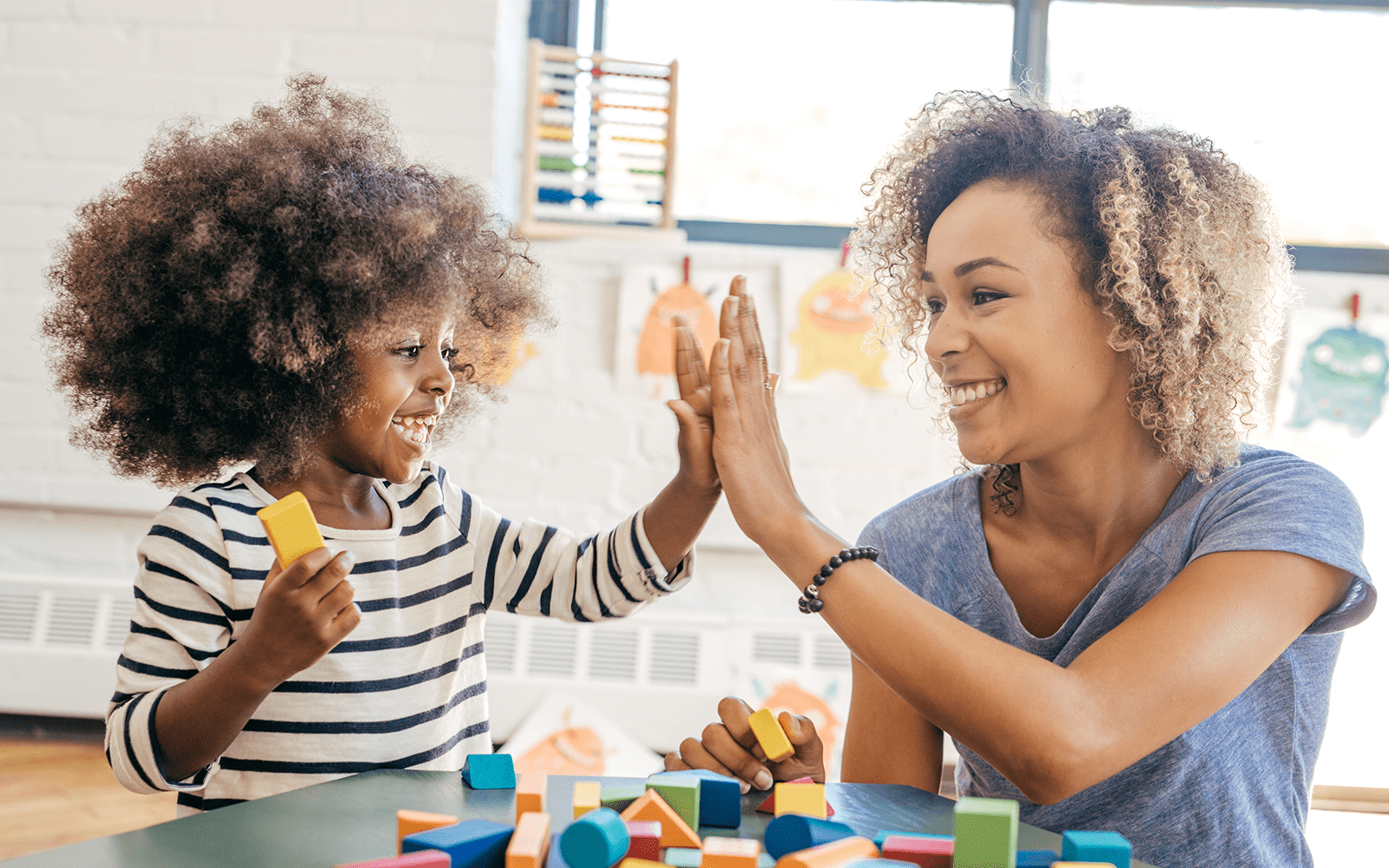 Notes From Olympia: Dec. 17, Final Notes for the Year
Included in this edition: Holiday Trivia, Governor's Supplemental Budget, 2022 Legislative Session Logistics, 2022 Bill Introductions and Redistricting Updates.
Holiday Trivia!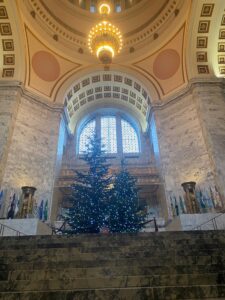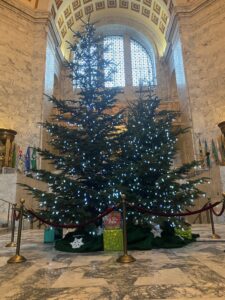 On a quick trip to Olympia earlier this week, I was able to walk through a deserted Legislative building and snap these pictures of three beautifully lit holiday trees. This got me thinking about the history of celebrating the holiday season in our state's Capitol.
When was the first holiday tree lighting ceremony in the Washington State Capitol building?
Release of Governor Inslee's Supplemental Budget
With the passage of the sweeping Fair Start for Kids Act in the 2021 legislative session, the focus in early learning is on implementing the various aspects of the new law. As a result, the Governor's proposed supplemental budget, as expected, does not include many proposals related to early learning.
The supplemental budget proposed the following:
Working Connections Child Care Co-Pay Waiver Adjustment ($9.5 million). This funding would backfill co-pays that were waived from July through September 2021.
ECEAP Slot Conversion ($9.327 million). This funding would support the conversion of some part-day ECEAP slots to school and full-day converting a total of 2,077 slots: 1,765 from part-day to school-day and 312 from part-day to full-day.
Summer ECEAP ($5.970 million). This funding would support nearly nine weeks of ECEAP services in the summer, leveraging 2,212 school-day slots on 2 tracks; 2,011 full-day, in-person slots; and 201 wraparound slots.
ECEAP Quality Supply Rate ($1.268 million). This funding would support the continuation of an enhanced rate for ECEAP providers to provide child and family assessments and have access to research-based curriculum and professional development.
Background Check Fees ($1.267 million). This funding would cover application and processing fees for child care providers, thereby reducing the time it takes to complete a background check by 3-5 days.
Mental Health Consultation ($260,000). This funding would support two tribal mental health consultants.
Lived Experience Work ($955,000). Within the Department of Social and Health Services budget summary, the Governor lays out his proposal to better include and compensate individuals with lived experience in budget and policy decisions. This funding would include a technical advisory group, funding for the Office of Equity on best practices to engage communities when creating equitable policies as well as for stipends for individuals participating in boards, commissions, workgroups, etc.
Overall, Governor Inslee's nearly $62 billion supplemental budget proposes almost $3 billion more in spending than the biennial budget passed by the Legislature and signed by the Governor this spring. In his press conference remarks, Governor Inslee stressed the state's need to respond with urgency to its many challenges, including housing, climate, behavioral health, COVID-19 and poverty. The Governor resisted calls to issue tax cuts and proposed investing $600 million of the budget surplus into the state's rainy day fund.
With the Governor's proposed budget release, activity now shifts to the legislative arena. Expect both the Senate Ways and Means and the House Appropriations Committees to hold public hearings during the first week of the legislative session to hear feedback on the Governor's proposals.
Detailed budget documents and high-level overviews are on the Governor's Office of Financial Management website.
2022 Legislative Session Logistics
Before we know it, the 2022 legislative session will be upon us. The short, sixty-day session kicks off Monday, Jan. 10 and will conclude (fingers crossed!) March 10.
The Senate and House of Representatives have each announced different approaches for operation during the 2022 legislative session.
In short :
Both Senate and House committee hearings will continue to be virtual.
 In the Senate, floor sessions will be in person for all members and a small number of staff (after confirmation of a negative rapid test each day of floor session).
Given that the House has twice the number of members as the Senate, their floor sessions will be in person for a rotating cohort of vaccinated legislators.
In both bodies, a limited number of members of the public may view the activity from the galleries, with specified safety measures in place.
Senators are encouraged to continue to hold meetings remotely, but will be permitted to hold in-person meetings in their offices for three members of the public, if they choose.
House members will continue to hold all meetings with the public virtually with no in-person option on the Capitol campus.
Legislative staff are encouraged to continue to work remotely.
It is important to recognize these operating plans are all subject to change depending on how the session proceeds and the status of COVID-19 infections.
Bill Introductions
Pre-Filed Bills. Lawmakers have begun pre-filing bills in advance of the Jan. 10 legislative session start date. A look through the pre-filed bill list illustrates the myriad of issues legislators consider throughout the legislative session – ranging from Senator Wellman's SB 5537 which would lower the age for compulsory K-12 education to children ages five, six and seven to Representative Walen's HB 1615 which addresses the sale of cosmetics tested on animals.
The volume of introduced legislation can be a lot to wade through, so Start Early WA will be producing and sharing a bill tracker weekly on our website on bills related to child and family issues. We will also include a link in future issues of this newsletter to keep you up to date on the status of key early learning and related bills.
Redistricting Updates
Our Nov. 19 Notes From Olympia provided an update on the state's Redistricting Commission narrowly missing the Nov. 15 deadline to adopt final Congressional and legislative maps to send to the Legislature for approval. Our state's Constitution provides that when the Redistricting Commission fails to meet the Nov. 15 deadline, the responsibility falls to the state Supreme Court to finalize proposed plans.
Instead of undertaking the process of redrawing political boundaries themselves, the Supreme Court instead announced Dec. 3 they would accept the Redistricting Commission's work and submit their proposal to the Legislature for approval.
Crosscut's Melissa Santos continues to be my "go to" reporter on these complex developments and her Dec. 3 piece provides a great summary of the Supreme Court's actions and the ramifications.
The drama is far from over; judicial challenges over the process and whether the final maps violate the federal Voting Rights Act are in play.
It is interesting to check out the final maps as some districts saw significant changes. For example, my district moved BACK to the district we were moved FROM during the last redistricting. It will be interesting to see if my neighbors are aware of this change during our next election. During the last election after redistricting, people were promoting candidates who were no longer our representatives! It is confusing.
Trivia Answer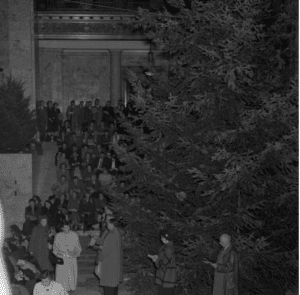 According to Thurston Talk, the first official tree lighting ceremony was in 1951, but an annual candlelight concert dedicated to the state's World War II veterans was broadcast via radio starting in 1945.
The early years focused on the Christmas holiday with a tree lighting ceremony, school choirs and children visiting with Santa Claus. The celebration has since expanded to be more representative and inclusive of the many holidays celebrated by Washingtonians during the winter months.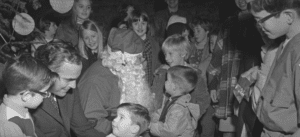 In 1989, the Association of Washington Business (AWB) began sponsoring the Holiday Kids' Tree Project where, in addition to providing a tree for the Capitol rotunda, funds are raised to support children in rural Washington communities.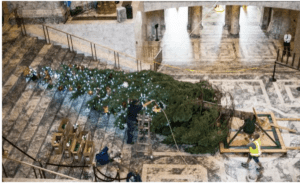 The tree's height has long been an item of discussion after the first tree topped out at 50-feet and proved too tall to fit in the rotunda! The trees now range between 28-30 feet (a tad too big to put on top of your car).
Even during unusual times like pandemics (2020 and 2021) and building closure for earthquake repair (2001), the holiday tree tradition has continued whether the tree stands outside the building as it did in 2001 or in a quiet rotunda during the recent pandemic period.
Visiting the trees in the rotunda was my first time back inside the Capitol since the final day of the 2020 session. It was surreal standing in the empty building, but I appreciated the beauty and peacefulness of the trees and lights.
Wishing you a happy holiday season!
About the Author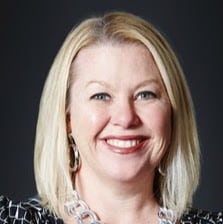 Erica Hallock
Director, Policy & Advocacy, Start Early Washington
Erica Hallock serves as the Director of Policy and Advocacy for Start Early Washington. She has worked in early childhood, health and human services policy in both California and Washington state.
More About Erica