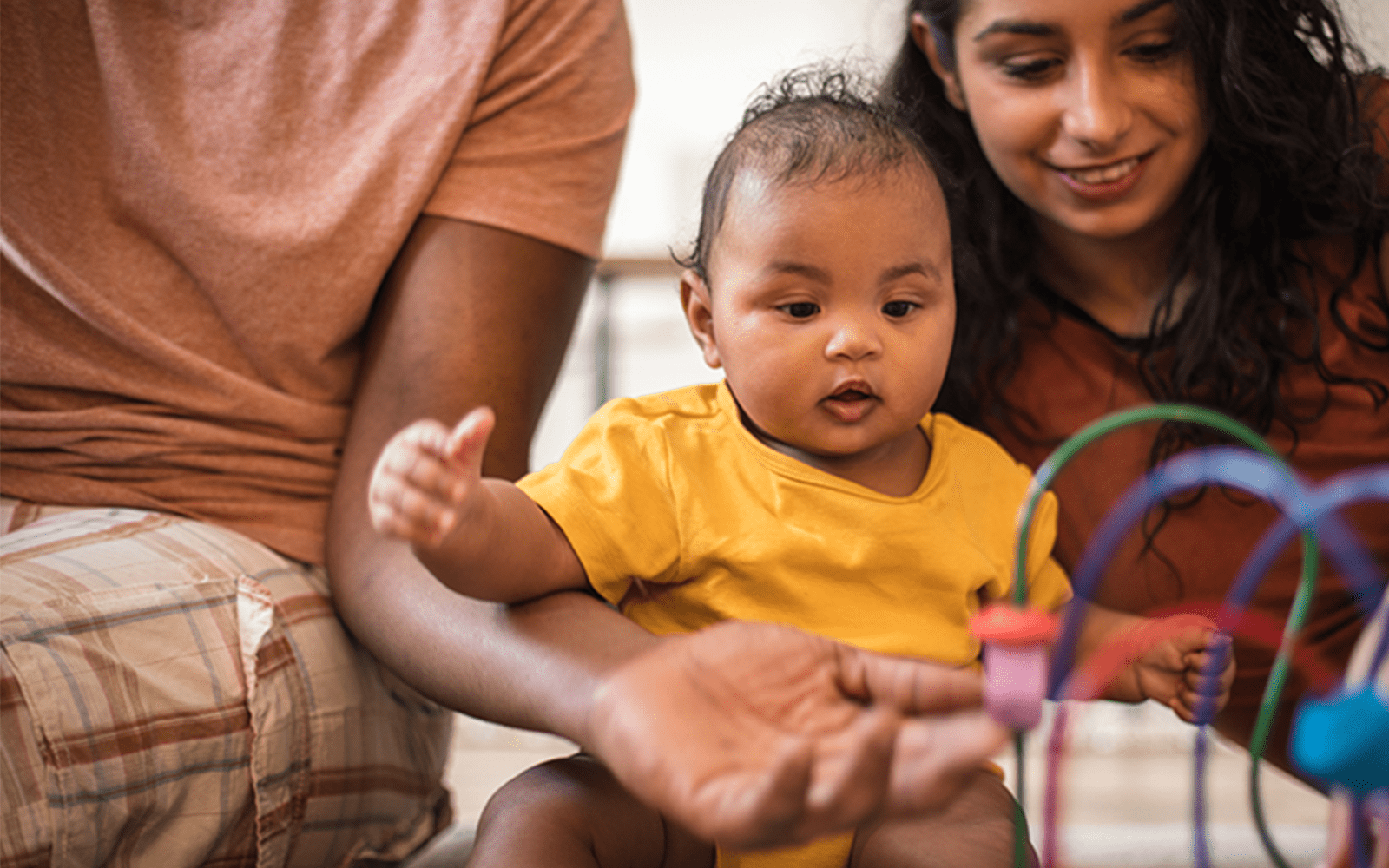 Notes From Olympia: March 11, Week 9 of the 2022 Legislative Session
Included in this edition: Trivia, That's a Wrap and Now What.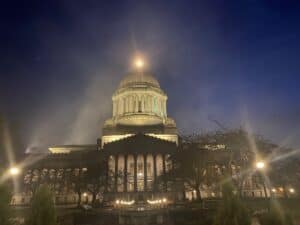 Photo Credit: Erica Hallock
Trivia
What significance does March 7, 1927 hold in the history of the Washington State Legislature?
That's a Wrap!
Sine Die. The Latin term Sine Die means "without a day to reconvene" and is used to signify adjournment at the end of a legislative session. Under Washington state's Sine Die tradition, the doors to each chamber are opened so they can see the other body, the lawmakers line the aisles, and the presiding officers of the Senate and House simultaneously pound their gavels to mark conclusion of another legislative session.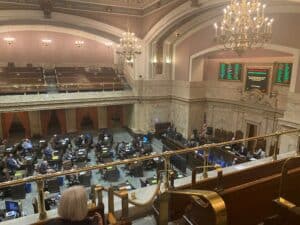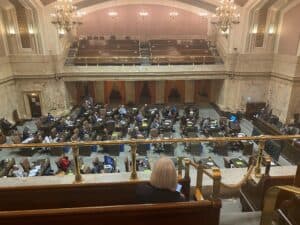 House on Sine Die March 10, 2022
Photo Credit: Erica Hallock
Final Budget Compromise Released. On Wednesday, the details of the $64.1 billion operating budget compromise were released prior to affirming votes in the Senate and the House. See our summary of what items were funded in the final budget (this link includes updated information).
The final budget amount came in lower than the House's proposed $65.2 billion budget and higher than the Senate's proposed $63.5 billion approach. The final budget includes $800 million in reserves as well as an additional $2.75 billion designated for COVID-19 related or other emergency responses.
Legislative Update. The Senate and House spent the week wrapping up final business, sending a slew of bills to the Governor for signature. Check out Start Early Washington's bill tracker on our resource page to get the final tally of which bills made it to the Governor's desk.
An important follow-up item relates to the status of designating pickleball as the state's official sport. I'm pleased to share that SB 5615 made it through the legislative process and is on its way to the Governor for signature.
Now What?
We're not quite done yet… While there is an audible sigh of relief after Sine Die, our work is not complete as attention turns to the executive branch, with Governor Inslee and his team beginning the process of reviewing the bills and budget details awaiting his action.
Like with every aspect of the legislative process, there are rules associated with the Governor's consideration of bills, including the timeline for action dependent upon when a bill reaches the Governor's desk. Many of these rules were developed for pre-electronic times when official paperwork was physically signed and delivered (and could get lost or misplaced – on accident or perhaps purposefully). At this stage, the Governor generally has 20 days to sign or veto bills once they reach his office. Sundays are not counted in that timeline, but Saturdays and holidays are included.
Governor Inslee's office maintains a schedule of bill actions on his website where you can track which bills have been acted upon, and which bills are scheduled for signature. We do expect bill signings to continue to be largely virtual affairs this year, but track his website if you are interested in the status of a particular bill.
Election season is coming. 2022 is an election year with every House of Representatives seat and half of the State Senate seats up for election. Additionally, because Secretary of State Steve Hobbs was appointed to complete an unexpired term, the Secretary of State office will be up for election this year. Key dates include the candidate filing deadline of May 20, the primary election Aug. 2 and the general election Nov. 8.
Timing of Future Notes from Olympia. With the conclusion of the legislative session, we will pause the release of weekly updates and move to an "as needed" basis to share information. Expect our next update after the Governor's action on bills and the budgets.
Trivia Answer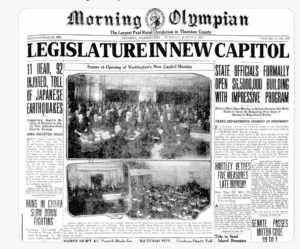 Photo Credit: Washington State Archives
March 7, 1927 represented the first day the Washington State Legislature met in the newly constructed – but unfurnished – Legislative Building.
Despite hope that the Legislature could begin their 1927 session in the new $6.5 million building, they only worked there for the final four days. This delay was attributed to fighting over the building's furnishings (and its cost) among the three members of the Capitol Committee – Governor Roland Hartley, State Auditor C.W. Clausen and State Land Commissioner C.V. Savidge.
As an aside, not everyone was thrilled about the transition to the new digs in the waning days of session. According to Don Brazier's recap of the 1927 legislative session, older legislators groused about having to make the trek "up the Hill" during the final days.
The final days of legislative sessions are often filled with tension and personal disagreements that can spill over into policy and budget decisions. The 1927 session appeared to have a heightened level of drama, largely driven by Governor Hartley's disdain for his fellow elected officials in the Legislature as well as other statewide offices. In fact, Governor Hartley convinced the Legislature to investigate Land Commissioner Savidge for allegedly improperly executing his duties. (The investigation found no illicit conduct.) Soon thereafter, charges were leveled that Governor Hartley misused funding intended for maintenance on the Governor's residence for furniture. The Attorney General ruled that Governor Hartley had misused the funds, and would need to reimburse the state.
Another example of the hard feelings between elected officials again involves Governor Hartley, but this time relates to the Governor's long-standing feud with his outspoken opponent, Senator Oliver Hall of Whitman County. Senator Hall's brother Elmer was an ally of Governor Hartley (not his Senator brother) and also worked as an assistant Sergeant of Arms. When Elmer's son applied to be a legislative page, his uncle, Senator Hall, made sure he did not get the position. Governor Hartley, in turn, secured a job for the young man so he could come to Olympia.
Because the move to the new Legislative Building occurred during the final days of session, the expected celebratory events were put on hold (given the animosity, this may have been a wise move). The big issue on Sine Die in 1927 involved negotiations on a highway appropriations bill which was proving problematic. A cover was placed over the clocks at midnight on Sine Die, allowing negotiations to continue. After a 30-hour session, plans for an Ocean Beach Highway were scrapped in favor of funding for the Aurora Bridge in Seattle.
Apparently still harboring grievances, Governor Hartley ultimately issued a total of 59 vetoes, including a veto of an appropriation for dedication of the new Legislative Building.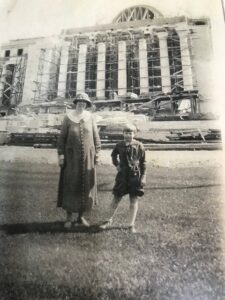 Elizabeth Varnell and Virginia (Ginna) Varnell Dunn
In front of the Legislative Building Under Construction
Photo Credit: Patrick Dunn, grandson of Elizabeth Varnell and son of Ginna Varnell Dunn
Start Early Washington's government affairs teammate Patrick Dunn kindly shared this picture of his mother and grandmother on what we think is the northside of the Legislative Building circa 1926-1927. His family lore holds the Varnells were driving to Portland and stopped in Olympia to check on the building's progress. Little did they know one of their family members would spend his career right here!
Sources: Washington State Archives and "History of the Washington Legislature 1854-1963," Don Brazier.
About the Author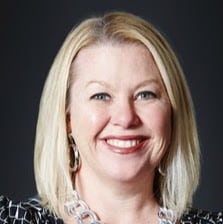 Erica Hallock
Director, Policy & Advocacy, Start Early Washington
Erica Hallock serves as the Director of Policy and Advocacy for Start Early Washington. She has worked in early childhood, health and human services policy in both California and Washington state.
More About Erica