As educators and parents of three young children, Kapria Robinson and her husband know starting early shapes not only a child's kindergarten experience, but their entire educational journey.
"We wanted to make sure we provided early learning programs for our own children that supported their academic, social and emotional skills. And where they got to experience joy every day at school; a place where they were happy, knew that they were loved, and would thrive," she recalls.
So when Kapria toured Educare Chicago on the recommendation of their foster care agency five years ago, she knew she has found the right program for her family. She enrolled her two eldest children, Alexander and Catalina, who were just 16-months and 6-months at the time.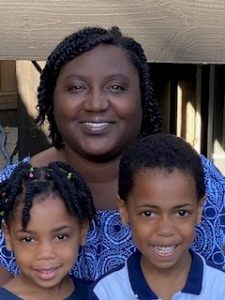 "Our case manager said families who had their children at Educare Chicago were thriving and that they were supportive of the blended foster-adoptive family dynamic," Kapria remembers. "With the foster care process, they were very open to things like working with biological parents. Also, the smaller class sizes and the student-to-teacher ratio is amazing. To have three adults, working with kids when they're younger just makes all the work of difference."