When a young student began drawing pictures using only black crayons, it caught the attention of veteran early childhood educator Alyia Dixon.
"Kids always gravitate to the brighter colors," Alyia says. "But when she was scribbling, she scribbled her pictures all in black… Sometimes all black, all the way to the edge of the pages."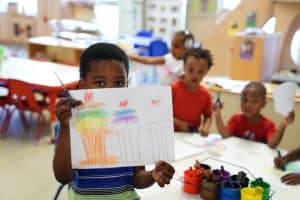 Alyia, who has been teaching at Educare Chicago, a program of Start Early, for 23 years, shared her observations and concerns with the school's family support specialists, and together, they arranged a visit to the student's home. These sorts of discussions are critical for providing families with a multi-perspective and multi-expertise support system. This holistic approach is a core component of high-quality early childhood programs. It provides valuable supports for students and can help connect their families to important resources.
"We did a home visit and found out that her lights were out… That's why she was drawing all in black," Alyia explains. "After we realized that, we talked about things you could do in the dark, you know, to try to lessen the negativity behind having the lights out."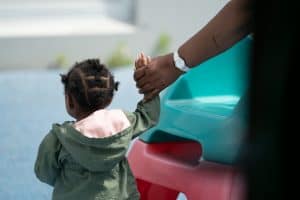 The Educare Chicago team realized during the home visit that the family was living with relatives, and that they would be best suited for success if they had their own apartment.
The school's family support specialists worked with the student's mother to help her obtain her own housing and connected her with utility payment assistance programs.
At Start Early, we believe that parents are a child's first educators, which is why we prioritize family engagement in our early learning programs. Family engagement in early education is particularly important for children and families in communities that are under-resourced, in that it helps create consistency between the home and school environments. The positive outcomes of engaged parents are powerful: increased support for children's learning at home, empowered parents and improved family well-being.