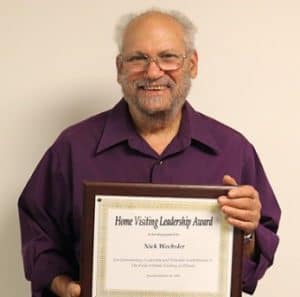 Start Early has long believed that a child's first and most important teacher is their parent. That is why we have been an early champion of recognizing home visiting as a key component of early childhood systems of care and education.
Our very own Nick Wechsler, director for program development at Start Early, has been influencing the home visiting field in Illinois for 30 years and was recently honored as the recipient of the Home Visiting Leadership Award at the Annual Prevent Child Abuse Illinois Statewide Conference.
A Passion for Building Relationships
Nick, who holds a master's degree in Infant Studies, started his career in the early 1970s, working as a community mental health worker in Chicago, providing therapy to communities in need under the supervision of licensed clinicians. Nick credits his experiences as a stay-at-home dad and as a family day care provider for preparing him for what ultimately became Start Early's home visiting approach: relationship-based work.
Home Visiting – Helping Parents Through a Life-Changing Transition
Nick's personal and professional experiences with new parenthood ultimately showed him that home visiting services can considerably support both children and parents.
The days and weeks following the birth of a child can be a time of great joy and excitement for all parents. Developmental science tells us that these first interactions between parents and newborns lay the foundation for a child's healthy development in school and life. This can also can be a time of extreme stress for parents, exacerbated by exhaustion during a period of physical, hormonal and emotional vulnerability.
Home visitors can provide much-needed support to help ease new parents' anxieties and provide them with the tools and knowledge to develop the secure attachments that allow children to thrive. By helping parents engage in meaningful play and learning interactions with their children, home visitors influence the development of nurturing relationships that support a child's ability to grow and learn.
Home Visiting – The Early Years
Today, early childhood home visiting is an established part of national policy and is a publicly subsidized practice here in the U.S. and in many countries around the globe. But it wasn't always so, Nick reminds us.
Public policy and subsidized center-based care for very young children was limited until 1995, when Early Head Start (EHS) was established. EHS extended home visiting into the Head Start model and added group care as an option for children from birth to age 3.
In the early years, Nick says, childcare professionals didn't have what we now know as evidence-based models for home visiting. In the 1990s, home visitors drew on the theories of emerging brain science to inform what simply made good sense in supporting parenting: that a child's early experiences and secure attachments with parents and caregivers lay the emotional, social and cognitive foundation for healthy development and learning.