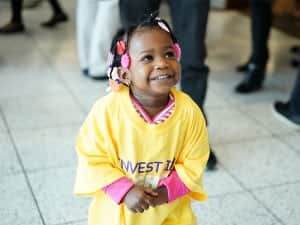 Illinois Early Childhood Advocacy Week (April 12-16) marks approximately one year into a pandemic that has deeply affected children, families, and early care and learning providers. Throughout the week, Start Early, Illinois Action for Children and the Latino Policy Forum will provide an opportunities for providers, parents, and caregivers to share with their legislators that early education is essential—now more than ever as we rebuild and recover from the COVID-19 pandemic. As we come together virtually to amplify the importance of early learning and care, we will also thank the early childhood field's front line workers – child care providers, home visitors, doulas, and others – who have continued to support and provide for our youngest learners.
Sign Up to Receive Start Early's Illinois Early Childhood Advocacy Week Action Alerts & We'll Send You Opportunities to:
LEARN: Each day, our Illinois policy experts will bring you a deep-dive into the day's focus area. Learn the key facts and messaging that are foundational to advocating for early learning and care.
WRITE: Contact your legislators and ask them to make early learning and care a priority in the Illinois state budget.
SHARE: Use our social media toolkit to share about the importance of investing in the early years on Facebook and Twitter—don't forget to use #EarlyEdIsEssential!
DIALOGUE: Is your community group interested in hosting a dialogue with your state legislators about the importance of early learning and care? Contact us at Advocacy@StartEarly.org to learn more about our legislator dialogue toolkit.
We are excited that this year, Advocacy Week also coincides with Black Maternal Health Week and the 50th anniversary of the Week of the Young Child! We look forward to providing opportunities to learn about and advocate for our youngest learners and Black maternal health.