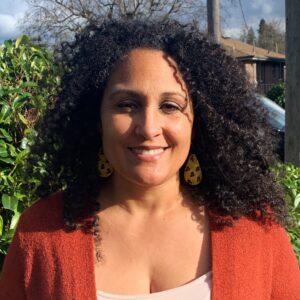 "My personal experience with ParentChild+ will last a lifetime!" Marcella shares her memories as one of many families who benefited from working with an early learning specialist through the ParentChild+ program.
Marcella and her daughter Taylor-Corrine participated in the ParentChild+ (PC+) program more than 16 years ago. Marcella admired the program's ability to support the whole family in shaping a bright path for her daughter's future. As a result, she was inspired to become an early learning specialist for PC+, supporting other families to build strong foundations and thriving futures. Currently, she is the PC+ program manager at Start Early Washington, where she supports 16 PC+ programs with technical assistance, professional development, coaching and consultation.
How Positive Reinforcement Builds Confidence
Positive reinforcement amplifies what is already working well and PC+ early learning specialists do that in numerous ways. They remind families that they are already doing a fantastic job with their child. Conversations are always positive, confidence building and reassuring to families that they know their child best. Marcella noted this as an element she appreciated most as a participant. "I knew that someone wasn't coming into my home to judge me or my parenting style."
As a new mother, Marcella learned to use high quality parent-child interactions in everyday moments that are often overlooked as learning opportunities, such as parent self-talk and narrating routine activities. For example, Marcella experienced how easy this could be while talking aloud in the grocery isles about ingredients on her shopping list to her daughter Taylor-Corrine.
She quickly realized the value of her simple teachable moments when a stranger at the grocery store commented, "I love how you interact with your daughter." That acknowledgment further reinforced that she was doing a fantastic job as a parent. "It elevated my confidence to a new level." This positive feedback loop continued throughout the program and Taylor-Corrine's life.
Shared Language and Culture Fosters Meaningful Relationships
As a unique component of the PC+ program, early learning specialists are matched with families who share their culture and language. A shared culture often plays an intricate role in fostering meaningful relationships. Notably, early learning specialists are hired from within the communities where they work and 25 percent of early learning specials are former parents who participated in the program.
"An authentic relationship and cultural match with our specialist was really important to our family when we participated," Marcella noted fostering a trusting, authentic relationship with families is vital for successful engagement. "Families are more comfortable discussing difficult topics and asking for support," she added.
Families develop a close bond with their early learning specialists over the course of 2 years. During that time, they receive 96 home visits and acquire several high quality books and educational materials selected specifically for their child's age group, ranging from 2 months to 5 years of age. In addition, they receive various guide sheets to help facilitate learning through play.
Strong Foundations Lead to Future Success
The PC+ program aims to improve parent-child engagement and connect families with culturally appropriate information and materials to support school readiness, early literacy and lifelong success.
Access to culturally appropriate books and toys provided by the program opened an entirely new world for Marcella and her family. Books such as "Please, Baby, Please," by Spike Lee and his wife, Tonya Lewis Lee, allowed Taylor-Corrine to be surrounded by characters who looked and felt like she did. "It was the first book Taylor-Corrine saw herself in," Marcella explained.
Marcella noted that key representation through her child's learning helped Taylor-Corrine feel inspired and confident to try new things. "It was life-changing for her, in so many ways, PC+ helped us provide the tools our daughter needed to be successful throughout life."
Marcella's testimony of her family's experience offered a few tangible examples of strong foundations leading to future success. Marcella leveraged the many tools provided by the program to make learning fun and effective for her daughter. As a result, by the time Taylor-Corrine entered kindergarten, she loved learning and Marcella was confident in communicating Taylor-Corrine's academic needs with her teachers.