Start Early has been committed to serving parents and families directly for nearly 40 years, and we continue to grow our ability to impact families beyond our direct reach. Through high-quality professional development programs, we have taken the research-based methods applied in our programs and made them available to practitioners and leaders across the field of early childhood education.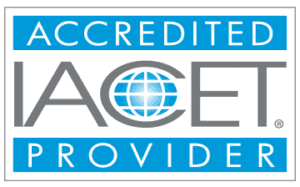 We are proud to announce that we have received the International Association for Continuing Education and Training (IACET) accreditation. The IACET accreditation adds a level of validation to our training programs and provides early education professionals with learning experiences that demonstrate elevated expertise, help them continue advancing in their careers and expand their skill sets.
Our professional development offerings consist of in-person and online learning experiences focused on a range of aspects within early childhood education. These opportunities help early education leaders grow in their work and address their most crucial areas of need.
Currently, these programs have received IACET accreditation:
The Essential Practices of Educare allows program leaders and practitioners to improve their skills and knowledge, leveraging the Educare Learning Network's research-backed model to deliver stronger results for children and families.
The Essentials of Home Visiting is a best-in-class online training program for home visitors. It includes innovative online courses and webinars for home visitors, supervisors, and family engagement professionals. These learning experiences were created by Start Early's home visiting experts based on decades of leadership in home visiting throughout Illinois.
We are actively pursuing IACET accreditation for the following programs:
The Essential 0-5 Survey is a unique measurement and leadership tool for early education leaders to address the core characteristics that contribute to the success of early childhood education institutions. The Essential 0-5 Survey provides in-depth analysis that allows teachers and organizational leaders to collectively improve the culture of their program and provide a stronger learning environment for children.
The Essential Fellowship is an intensive leadership fellowship that provides leaders with the opportunity to learn how to build systems and routines that improve classroom instruction.
Our professional development programs provide the opportunity to share Start Early's wealth of knowledge with early childhood professionals across the country, as well as learn alongside them to iterate, innovate and improve.