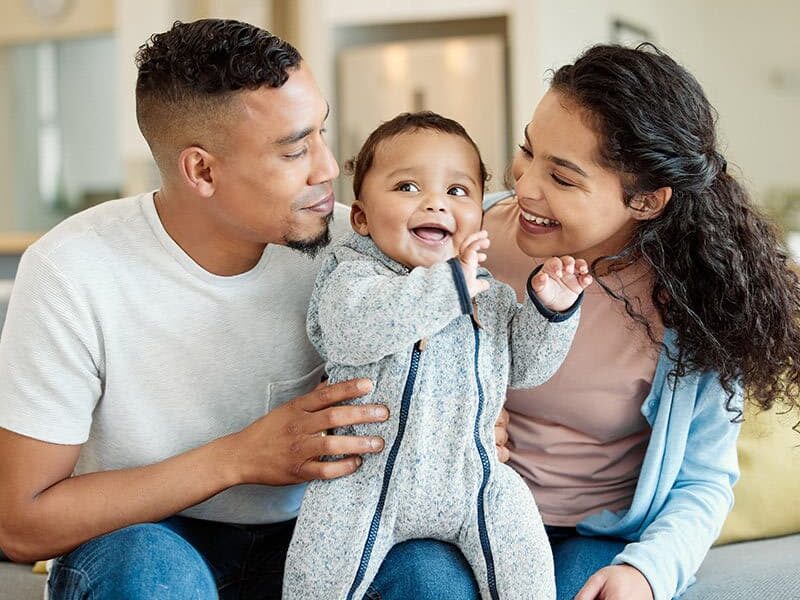 NEW: Notes From Olympia: Sept. 29, 2023 Interim Updates
This edition explores the upcoming legislative makeup, state revenue expectations, a preview of state agency decision packages and more!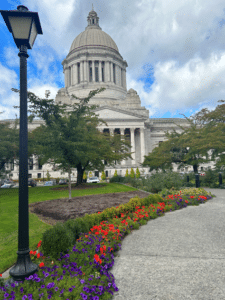 No matter the season, the Capitol Campus is always gorgeous!
(Photo Credit: Erica Hallock, Sept. 19, 2023)
Changes in the Legislative Makeup in 2024 and Beyond
What legislative makeup changes can we expect heading into 2024's legislative session? Christine Rolfes' decision to leave the state Senate for a seat on the Kitsap County Board of Commissioners kicked off a series of changes to the Senate and House of Representatives membership and committee assignments. During the first shift, in August, the Kitsap County Board of Commissioners appointed House of Representatives member Drew Hansen to serve the remainder of Senator Rolfes' Senate term (with now Commissioner Rolfes abstaining in the vote).
In September, the same Board of Commissioners appointed Greg Nance to fill Rep. Hansen's former House seat. The part of Rep. Nance's resume that is generating the most conversation is his passion for running and the fact that he ran across the country (that's 3,156 miles!) for youth mental health. He also enjoys running ultramarathons. Impressive!
Because former Senator Rolfes chaired the powerful Senate Ways and Means Committee, her departure led to a number of changes in Senate Committee assignments. Last week, Senate Democrats announced that Senate Ways and Means Committee Vice Chair June Robinson from Snohomish County would assume the Chair role, with Senator Joe Nguyen from West Seattle serving as the Committee Vice Chair. Senate Higher Education and Workforce Development Committee Chair Emily Randall from Kitsap County was added to the Ways and Means Committee, filling Sen. Nguyen's seat.
Senator Hansen was appointed to the Senate Higher Education and Workforce Development, Labor and Commerce and the Transportation Committees. In other shuffling, Senator Marko Liias replaced Sen. Rolfes on the Senate Agriculture, Water, Natural Resources and Parks Committee.
How are the 2024 elections shaping up? As we've previously reported, Governor Jay Inslee's decision not to seek a fourth term set in motion a series of cascading dominoes. We know two current statewide officeholders – Attorney General Bob Ferguson and Public Lands Commissioner Hilary Franz – have thrown their hats into the ring for the open Governor seat, along with the current state Senator from the Issaquah area, Mark Mullet. Further, longtime Insurance Commissioner Mike Kreidler announced he does not plan to seek a seventh term, opening up a fourth statewide office.
As of this writing, five sitting state senators have announced plans to run for the four open statewide seats:
Senator Mark Mullet from Issaquah for Governor
Senator Manka Dhingra from Redmond for Attorney General
Senator Patty Kuderer from Bellevue for Insurance Commissioner
Senator Kevin Van De Wege from Port Angeles for Public Lands Commissioner
Senator Rebecca Saldana from Seattle for Public Lands Commissioner
With Senate seats up for election every four years, only two of these current state senators have to give up their Senate seats to run for statewide office – Senators Mullet and Van De Wege. Senators Dhingra, Kuderer and Saldana are up for election in the Senate in 2026. Should any of these three prevail in their statewide election, however, there would be appointments for their Senate seats. Like with the recent ascension of Drew Hansen to Christine Rolfes' Senate seat, it is very common for House members to seek an open Senate seat (which of course leads to openings in the House and more shuffling).
Another data point is that in 2024, 27 of the 49 Senate seats will be up for election. This is higher than usual because of a number of midterm Senate appointments. All 98 House seats will be up for election in 2024 as well.
Are you following all of this?? It is confusing and, yes, I had to make my own chart to keep track of all the potential movement. And, this is all happening before the usual round of retirement announcements that typically occur during the legislative session. Guess I should have written my chart in pencil …
State Revenue Update
On Sept. 26, the Washington State Revenue and Forecast Council met to receive the latest revenue report from the state's Chief Economist Dr. Steve Lerch. While revenue collections are slowing, they do continue to outpace projections. Revenues are expected to be $663M more than anticipated for the 2023-25 biennium and $437M more than anticipated for the subsequent 2025-27 biennium.
Washington continues to enjoy its lowest unemployment rate of all time at 3.6%. High inflation rates continue to be a risk to the state's economy as does the potential federal government shutdown. Dr. Lerch noted that the resumption of federal student loan payments will mean fewer dollars will flow into our state's economy, impacting sales tax receipts. The question of the magnitude of the impact of the student loan payments resuming was asked by a number of legislators on the panel and Dr. Lerch replied it is too early to anticipate the impact.
After years of service, Dr. Lerch will be retiring from his role as the state's economist and the Council is slated to appoint his successor at its Oct. 6 meeting. Dr. Lerch is widely considered a trusted resource and is appreciated for calling it like he sees it.
State Agency Decision Packages
Each September, state agencies submit to the Office of Financial Management (OFM) "Decision Packages" containing agency requests for consideration of funding to be included in the Governor's budget released in mid-late December.
Note that 2024 is an "off year" where the Legislature will adopt a supplemental budget. Supplemental budgets are designed to account for caseload shifts or unanticipated expenses (such as expenses associated with intense fire seasons). While supplemental budgets are not intended for significant investments, state agencies and advocates (and legislators) will still try to advance priority initiatives.
Over the next few months, the Governor and his team will weigh the various proposals against available funding. One final revenue forecast released in November will inform the Governor's proposal with the Governor's budget out in December.
These decision packages can be found on the OFM website. Web access to the decision packages is clunky, so we summarized some of the key early learning requests submitted by the Department of Children, Youth and Families below:
ECEAP Entitlement
DCYF requested a total of $37M for the supplemental budget, with the amount rising to $82.09M in years 25-27. DCYF proposes the new funding support three areas: slot rates, slot expansion and quality supports.
Slot Rates ($29.759M). DCYF requested a 19% rate increase for school-day slots and a 28% increase for working-day slots. Funding at this amount would equal the full rate recommendation in the ECEAP cost study . This would raise the school-day rate from $14,893 to $17,659 (and then to $18,030 in SFY 26). It would also increase the working-day rate from the current $21,478 to $27,587 (going up to $28,166 in SFY 26).
Slot Expansion ($4.976M). The adopted 2023-25 budget included 500 new school-day slots. In the supplemental budget, DCYF is requesting an additional 200 school-day and 50 working-day slots. The decision package notes that three contractors returned 246 slots this year due to staffing shortages.
Quality Supports ($1.046M in maintenance and $149K for new slots). This funding request would support child assessment, curriculum and training. This request was not fully funded in the 2023-25 budget and $1.046M represents that funding gap. Additional funding is needed because of pricing increases from a vendor and quality funding not provided to support new slots allotted.
Making Child Care Work for Families
A total of $12.597M in the 2023-25 supplemental budget is requested to align eligibility for ECEAP, Working Connections, Head Start, Early Head Start and Early ECEAP. Alignment would include:
Allow participation in ECEAP, Early ECEAP, Head Start and Early Head Start as an approved Working Connections activity. This would cost $2.377M and impact about 166 families who are enrolled in Working Connections and either Head Start or ECEAP.
Continued Working Connections Eligibility for 12 months for children adopted or in guardianship. This would cost $1.091M.
Exclude child support, Social Security and SSI as income for ECEAP and Working Connections Eligibility. This would cost $6.876M for child support and $2.115M for SS/SSI exclusion.
Infant Rate Enhancement and Non-Standard Hours Bonus
A total of $23.758M is requested in the 2023-25 supplemental budget and $47.458M in 2025-27 to:
Increase infant rate enhancement from $90 a month to $500 a month. This would cost $14 million and impact about 2500 children. DCYF also requests 1 FTE to manage the contracting of slots for the approximately 100 infants placed with kin or relative parents.
Increase non-standard hour care bonus from $135 a month to $500 a month. This would cost $8M.
Increase shared services funding to $1.7M. This supports training, mentoring and consulting.
Transition to Kindergarten Coordinated Recruitment and Enrollment
DCYF requests $1.357M and 2 FTE to implement the requirements of the 2023 Transition to Kindergarten legislation (the adopted budget did not include this funding). The decision package also includes funding for Child Care Aware to support bringing local partners together to coordinate and communicate. The goal is to support increased access to pre-K and informed parental choice.
The Office of Superintendent of Public Instruction may also have a decision package for its costs associated with this work, but it has not been posted as of this writing.
State Redistricting Updates
In August, U.S. District Court Judge Robert Lasnik found that the map for the 15th Legislative District in the Yakima area limited Latino voter participation and representation in elections. The Washington State Standard does a great job of describing the case in a series of articles.
Invalidating the map drawn by the state's Redistricting Commission, Judge Lasnik directed the Legislature to either call the Redistricting Commission back to redraw the district or leave the redrawing to the federal court. The Judge ordered the new redistricting plan be sent to the Secretary of State by March 25, 2024 to allow time for the new district(s) to be considered for the 2024 elections.
It is important to note that the redrawing of one legislative district has ripple effects and it is likely that this redistricting will impact the makeup of multiple legislative districts.
While the District Court did provide an option for the Redistricting Commission to be convened by the Legislature to redraw the district, on Sept. 13, the State Standard reported that Democratic legislative leadership does not plan to exercise that option, and the federal court should undergo the redistricting process.
Expect this redistricting conversation to be another focal point in 2024.
Capitol Campus Construction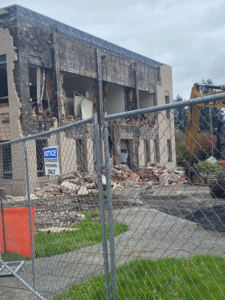 Irv Newhouse Building during the waning days of the Legislative session in April 2023
(Photo Credit: Erica Hallock)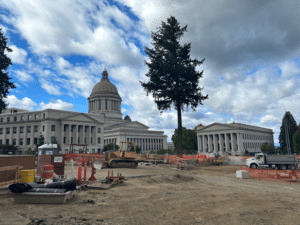 A much different view in September 2023
(Photo Credit: Erica Hallock)
A visit to Olympia is not complete without checking out the progress on the Capitol campus modernization project. As the most recent picture clearly demonstrates, the Irv Newhouse Building – which housed Senate Republican members – along with the Capitol Press houses and the old visitor center are all demolished. The new "view" as you walk toward the Capitol campus is striking.
You can learn more about the Newhouse replacement building on the Department of Enterprise Services website. One update that will bring joy to Capitol dwellers is the inclusion of conference rooms for meetings – something that is sorely lacking on the current campus.
A note if you are planning to visit the Capitol in the near-term, the visitor's parking lot is closed due to the construction. Alternative parking lots can be found here.
About the Author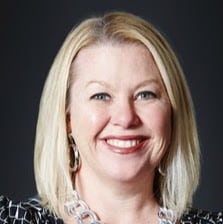 Erica Hallock
Director, Policy & Advocacy, Start Early Washington
Erica Hallock serves as the Director of Policy and Advocacy for Start Early Washington. She has worked in early childhood, health and human services policy in both California and Washington state.
More About Erica