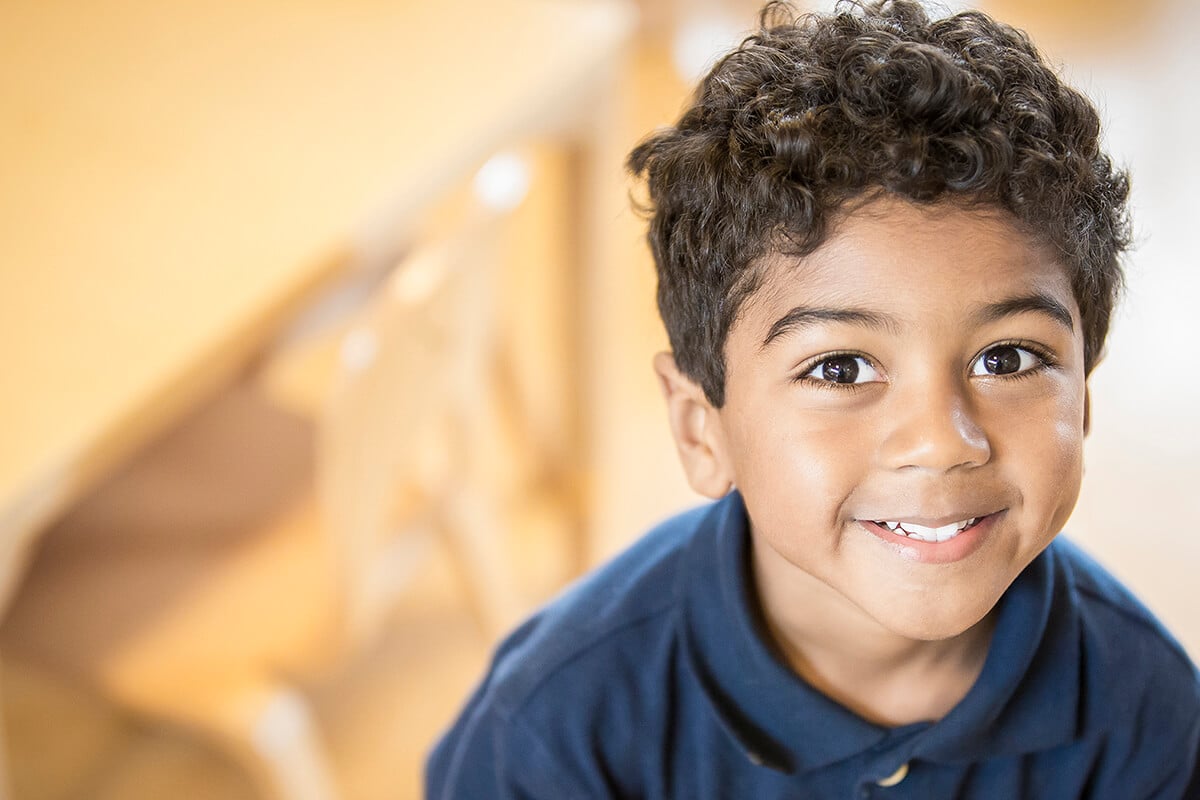 Notes From Olympia: March 10, Week 9 of the 2023 Legislative Session
This edition focuses on Floor activity, budget provisos, Washington's first joint legislative address with a foreign head of state, trivia and more!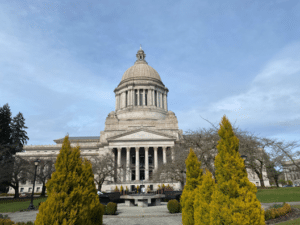 (Photo Credit: Erica Hallock)
Trivia!
Republican Jeannette Hayner was the first female to serve in legislative leadership. Throughout her political career, how many elections did she lose?
Legislative Activity
Floor activity "5 o'clock bills." Time seems to suspend during intense periods of floor activity. Each day bleeds into the next. It is hard to plan because you never know when votes will occur or what time the legislative bodies will knock off for the night (or early morning!). So far this year, the Senate wins the prize for adjourning at more humane hours while the House has frequently extended into the early morning.
The House of Origin cutoff (which hit Wednesday at 5 p.m.) is yet another point in the legislative process where bills stop advancing. Bills can be held in the Rules Committee or left to languish on the Floor calendar without action. Reasons for bills not moving forward are not always apparent, and it is frustrating to watch time run out on a bill you care about. There are situations where the minority party attaches a slew of amendments to bills on the Floor, simply to "run out the clock."
Typically, both legislative bodies will select a controversial bill where debate is expected to run long to be their "5 o'clock bill" on the House of Origin deadline. They tend to start debate on the "5 o'clock bill" just prior to the magic hour to allow ample time for discussion. This year's 5 o'clock bills revolved around firearms/assault weapons in the House and broadband in the Senate. On brand for the week, the Senate wrapped up by 5:15 p.m. and the House took their final vote at 8:20 p.m. (my bet was on them concluding at 11 p.m.).
Once the House of Origin deadline passed, the process quickly reverted back to policy committee meetings, with hearings beginning bright and early at 8 a.m. Thursday morning (coffee, please!). At this stage, policy committees will hear bills passed out of the opposite chamber. Sometimes, the opposite body has already heard the content of the bill if there was a "companion" bill on a similar subject. And, unlike the start of session, this policy committee review period is more abbreviated as they should (theoretically) have fewer bills to review.
The opposite chamber policy committee cutoff date is March 29 and the opposite chamber fiscal committee cutoff is quickly thereafter on April 4.
Active bills. Several early learning bills have moved on to the opposite chamber and need to have a hearing and be voted out of policy committees on or before March 29. These include:
Legislative Lowdown
What is a budget proviso? We are at the stage in the legislative process where the terms "proviso" or "budget proviso" are frequently used. Budget provisos are clauses in state budget documents that set out specific conditions or limitations on the use of funding appropriated in the budget.
The following is an example of a budget proviso from 2021 related to voluntary home visiting:
(20)(a) $2,771,000 of the home visiting account—state appropriation for fiscal year 2022, $5,299,000 of the home visiting account—state appropriation for fiscal year 2023, and $3,000,000 of the general fund—federal appropriation (ARPA) are provided to expand home visiting services, enhance data collection, and support the local implementing agencies providing home visiting services. The department shall: (i) Contract with local implementing agencies to expand home visiting services by October 1, 2021; and (ii) Provide semiannual updates to the home visiting advisory committee established in RCW 43.216.130 that includes an updated number of families served in home visiting programs and a status of the home visiting services account balance.
Through budget provisos, the Legislature directs state agencies on how to use state funding. Provisos represent legislative budgetary priorities during the biennial or supplemental budget period that relate to a range of issues. For example, the Legislature may direct the Department of Children, Youth, and Families to create a workgroup on maternal health or develop a pilot project related to a new service need.
Budget provisos also function as a strategy to keep an issue or policy moving when a policy bill hits a roadblock. Legislators, lobbyists and advocates all use this tool for piloting issues or for funding a policy goal when a bill related to the issue was not introduced or did not pass through the normal policy bill process.
Unlike policy bills, budget provisos are more difficult to track during session. Essentially, any person or entity advocating for a proviso must wait until a budget proposal is released to see if it is included, rather than a policy bill that can be tracked throughout session.
Another major distinction between a budget proviso and passage of a bill is that budget provisos only "live" through the timing of the budget whereas enacted bills become a part of law in perpetuity (unless the statute expires or is subsequently changed).
To learn more about the state budget, here is a guide to the budget process from the University of Washington as well as a Budget and Policy Highlights overview for Governor Inslee's 2023-25 biennial proposed budget.
Finnish President Visits the Capitol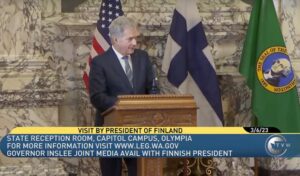 (Photo Credit: TVW Screen Shot)
The week began with a Capitol visit from the president of Finland, President Sauli Niinistö. Following an address to a Joint Session of the Legislature, the Finnish President joined Governor Jay Inslee for a press conference.
According to Governor Inslee's office, this joint legislative address is the first from a foreign head of state. President Niinistö discussed Washington state and Finland's shared interests in trade, clean energy and the Russia-Ukraine conflict.
Bill Tracker: Key Early Learning Bills
As the legislative session progresses, our resource page will update with a weekly bill tracker. Please note that legislation changes quickly, so the version on our website may not represent a bill's latest version as it is published the Thursday of each week.
Trivia Answer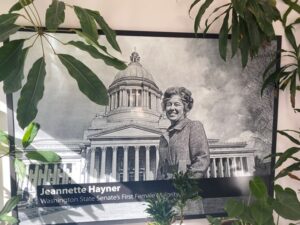 Picture of late Senator Jeannette Hayner in the Senate Republican Office Building, 1919-2010
(Photo Credit: Erica Hallock)
Zero! From her first foray into office as a write-in candidate for the Walla Walla School Board, to her election to the Washington State House of Representatives in 1972 and the State Senate (beginning in 1976), Hayner never lost an election and, upon her retirement in 1993 at the age of 73, served longer in caucus leadership than anyone in state history.
Born Jeannette Hafner, Senator Hayner was the only child of a creamery owner. She attended the University of Oregon as an undergraduate as well as for law school (Sco Ducks!) where she met her future husband "Dutch" Hahner (note the different spelling of their last name at the time).
Senator Hayner was one of only two women to earn a law degree in her graduation year and when attempted to find a job at a law firm in Portland, no one would hire her because she was a woman. Instead, she worked as an attorney for the Bonneville Power Administration. Her family ultimately settled in Walla Walla after her husband cold-called law firms seeking employment throughout Eastern Washington towns.
Once in Eastern Washington, Hayner left law and became extremely involved in community affairs. Upon her return from a family trip, she learned of an existing effort to get her elected to the Walla Walla School Board as a write-in candidate. She won and became the first woman to serve on that school board.
In 1972, Hayner ran for an open House of Representatives seat in the 16th legislative district. It was a hard-fought race, particularly in the primary, and she ultimately defeated three prominent male candidates. Around this time, Representative Hayner and Dutch decided to change the spelling of their last name from Hahner to the more phonetically appropriate Hayner because people had trouble finding their phone number in the phone book (that is a blast from the past!). When Hayner got to the House of Representatives, she was one of only 8 women in that body and the Senate had no female Senators. Representative Hayner worked from a desk in the hallway and shared an assistant with two other legislators.
In 1976, Representative Hayner opted to run for a vacant State Senate seat, countering the prevailing attitude that the Senate was inappropriate for women. After winning a tight contest, Senator Hayner joined 18 Republican colleagues to make up a 19-30 minority in that body.
Years of languishing in the minority led to secret meetings among Senate Republicans looking to push out the then-Minority Leader Senator Jim Matson of Selah for his complacency and inability to add more Republican members. Identifying an alternative for Matson proved difficult and Senator Hayner emerged as the consensus candidate. A week before the end of session, Senate Republicans surprised Matson during a caucus meeting, ultimately ousting him on a 10-9 vote, making Senator Hayner the first female to serve in legislative leadership from either party. According to then Senator Lois North, there was "stunned silence on the Floor of the Senate when it became apparent that a woman was about to become the leader of her caucus."
Senator Hayner's tenure in legislative leadership was defined by her reputation as a hard worker who put in long hours and was committed to ensuring effective government. She moved from Minority to Majority Leader after convincing Senator Peter von Reichbauer of Vashon to flip from the Democratic to the Republican Party, providing Republicans a majority in the Senate for the first time in 26 years.
She was also known for the discipline she imposed upon her caucus. Often compared to former British Prime Minister Margaret Thatcher, she was referred to as "the Senate's Iron Lady." Senator Hayner initiated what was known as the "rule of 13." Her caucus voted on every bill and those bills that received a simple majority of 13 votes (out of the 25 in their caucus) meant that every member of the Republican caucus committed to taking an identical vote on the Floor.
Following Senator Hayner's retirement from the Legislature, she was recruited to serve as the first Board Chair of TVW. TVW founder (and current Washington State Lt. Governor) Denny Heck sought for TVW to be non-partisan and he approached Senator Hayner because of her long-standing support for open government and transparency. TVW named its new building in Senator Hayner's honor.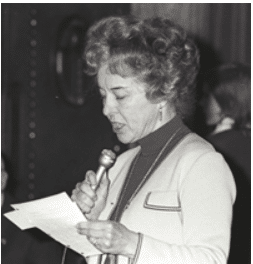 Late Senator Hayner speaking on the Senate Floor
(Photo Credit: Washington State Legislative Website)
Sources: Washington State Legislative Website, HistoryLink.org, and Wikipedia
About the Author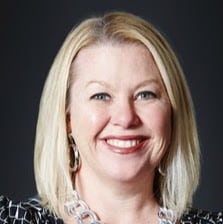 Erica Hallock
Director, Policy & Advocacy, Start Early Washington
Erica Hallock serves as the Director of Policy and Advocacy for Start Early Washington. She has worked in early childhood, health and human services policy in both California and Washington state.
More About Erica