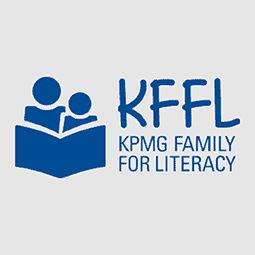 This Giving Tuesday, we partnered with KPMG's Family for Literacy program who matched funds raised during the day with $10,000 worth of books for children at 26 early childhood programs. We are so grateful to have such a dedicated partner like KPMG who believe in our mission to ensure our earliest learners have the best start in school and life.
Recently, we sat down with Kerri Neis, associate director at KPMG, to discuss why fighting illiteracy and supporting Start Early is important to the company.
Why are literacy and early education essential parts of KPMG's Corporate Citizenship initiatives?
KPMG's Citizenship efforts are centered on lifelong learning, which is essential to unlocking the potential in people, building economies, and above all, improving lives. Literacy is at the foundation of lifelong learning, and access to books is necessary to build strong reading skills. Specifically, the need is profound in Chicago. We know that by fourth grade, only about 27 percent of Chicago's students are considered proficient in reading–there is a literacy crisis we can't ignore. And in Chicago's low-income neighborhoods, there is only one book for every 300 children, whereas in middle-class neighborhoods, there are 13 books per child on average. The statistics are so motivating for all of our leaders, partners, and employees—who have enjoyed an education and want to give back to the communities they love.
What is KPMG's Family for Literacy (KFFL) program?
KFFL is the firm's flagship Citizenship program with a mission to eradicate childhood illiteracy by putting new books into the hands of children in need and developing the next generation of young leaders through reading. This unique program is particularly effective because it harnesses the energy and enthusiasm of KPMG's extended family—not only partners and employees, but also spouses, children, interns, retirees, alumni, professional golfers, and KPMG Brand Ambassadors Phil Mickelson, Stacy Lewis, Mariah Stackhouse, Maverick McNealy and Olympic gold medalist Laurie Hernandez.

Since its inception in 2008, KFFL has distributed over 5 million new books to low-income children in 100+ communities across the United States. KFFL also translates across borders having spread through KPMG's global network to India, Mexico, South Africa, Zambia, the U.K., Kenya, Canada and China.

How does partnering with an organization like Start Early help KFFL support its mission of eradicating childhood illiteracy?
Our organization and networks allow us to raise the funds to buy books, source volunteers to pack and deliver books, visit schools and libraries, and fuel the enthusiasm to share the importance of our mission. But we count on partners in the community to connect us with the right communities in the right way, which allows us to bring the books into the communities we most want to serve. Our core competencies lie in providing Advisory, Tax, and Audit services to our clients—our KFFL partners' core competencies lie in serving constituents in communities. Those partnerships are so valuable to us as they provide the network, trust, and connectivity to carry out our mission.

We have been so impressed with the holistic and critical services Start Early provides to their communities, that is why we were thrilled to be able to provide books to the schools, children, and families in their network. We hope that in addition to literacy skills, these books bring families together for quality time, spark the imaginations of young readers, and inspires their children to learn more. Because that is what we are all about at KPMG—lifelong learning!