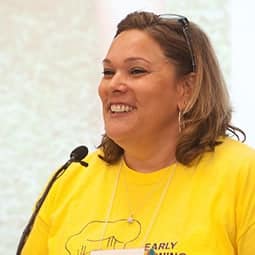 Ireta Gasner leads Start Early's (formerly known as the Ounce) Illinois policy team, in the words of Ireta herself, "a smart, committed team of folks, who work every day to improve the systems of support for young children and families – especially those who face the greatest challenges."
Currently, Ireta and her team are working hard to prepare and develop its legislative agenda for the Fiscal Year 2021 legislative session, so we are grateful to Ireta for taking the time to chat with us about her passion for advocacy and discuss why early learning is a cause she cares so strongly for.
Why did you choose to pursue a career in early childhood advocacy?
I'm originally from Wisconsin but have lived in Chicago since after college and started out as a teacher. After obtaining a master's degree in social work, I provided direct services to families with young children experiencing homelessness – through home visiting and Head Start programs.

I loved it. Seeing what challenges families were facing seriously perked my interest in policy and advocacy, and I desired to make change on a broader level.

In my work with families over the years, I have become a true believer that by making sure families have the support they need at the earliest point possible (ideally prenatally), we can maximize the chance for all children to have the best start in life. We're still going to need supports along the way, but we could be doing so much more and earlier for children and families in our nation.

What does early childhood education, care and learning mean to you?
Engaging and supporting families at the earliest point results in healthy births and strong attachments with parents, ultimately providing a continuum of rich, quality and developmentally-appropriate experiences for young children. Whether these experiences are with parents, in programs or in a community, they are necessary to help launch children on a path of learning and success.
What is the Illinois Policy Team focused on the most right now?
We're going to have some real conversations about what it will take for Illinois to have the early childhood systems that children need and deserve. While we've had a lot of successful investments in early childhood in our state, it's going to take so much more to truly provide the best to our youngest children.One of the biggest issues we face now is attracting and keeping professionals into our field because we do not pay our workforce nearly enough for the sophisticated, complex work they do. We must tackle this problem.
I'd like to encourage us to be bold – supporting the healthy development of young children and their families is among the most important things we can do for our future. We shouldn't be afraid to talk about what kinds of investments we will need in order to truly move the needle for the well-being of our kids.