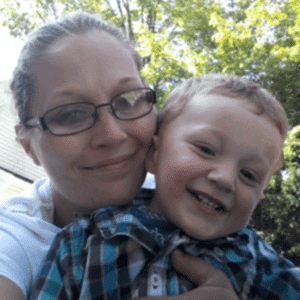 Meet Casey Henderson, mother of Payton, a student at Educare Central Maine. In 2017, Casey moved to Waterville, Maine to escape domestic violence and receive support for drug addiction recovery. Soon after enrolling her son in Educare Central Maine, she joined their Parent Ambassadors program, an initiative that elevates the voices of parents by engaging them in policy advocacy. She hoped the program would help her gain confidence and allow her to find her voice, she learned it would do so much more.
Recently, we sat down with Casey to talk about her involvement in the Educare Central Maine Parent Ambassadors program and how that has influenced her life as a parent and advocate.
How did you connect with the Parent Ambassadors program? What's your role?
After many hesitations and some pushes, I became a parent ambassador for the 2017-2018 term. I was unsure if it was my thing at the beginning, but the experiences I have been given are amazing, including testifying at the State House on the Leveraging Investments in Families for Tomorrow (LIFT) Act that made the first TANF increase in 25 years, to getting a hug from Susan Collins and having the opportunity to go to Washington, DC, Austin, Texas, Seattle, Washington and Tulsa, Oklahoma. As a Parent Ambassador alumni today, I am working as a peer mentor with the current ambassadors, helping to create a state-wide parent ambassador program, and continuing to work within the legislation process – telling my story and testifying.
Why is the Parent Ambassadors program valuable to you and how do you think your involvement has impacted Payton?
Becoming a parent ambassador and a part of the Educare Central Maine community was such a blessing to me and my child. Gaining confidence within the parent ambassador program and finding my way as a woman in long term recovery, I finally had the courage and support to reenroll in college. I will be graduating in May from KVCC with my associates in Mental Health and have already been accepted to the UMA mental health and human services program. Moving to Waterville has changed my life, but if it wasn't for the support and love that Educare, the parent ambassador program, and especially Joni Sprague has given me, I do not feel I would have made it this far. I am finally becoming the woman I was meant to be and giving my son a great example of life.
What have you gained from your participation? What have you been able to contribute?
I have gained acceptance for who I am and that is something I have not had for a long time. I have gained self-confidence, resiliency, respect, hope, faith, and the willpower to do whatever I want to do knowing that the sky is the limit. I hope I have been able to contribute to my community and state as a part of the parent ambassador program. But most importantly, I hope I am inspiring other parents and showing them if I can do it, so can you and I will take the step with you to get to the top.