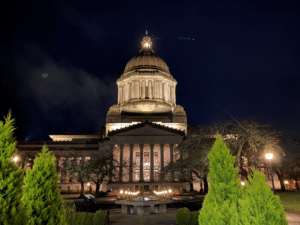 Early Morning at the Capitol Building
(Photo Credit: Erica Hallock)
Trivia!
You will not be surprised to see this week's trivia relates to the tradition of "swearing-in" of elected officials. In Washington state, how many mother-daughter combos have served in either the State Senate or House of Representatives?
Highlights of the Week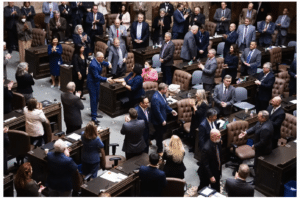 Governor Inslee's State of the State
(Photo Credit: Inslee delivers State of the State: "Bold actions for building a stronger Washington")
State of the State
On Tuesday, before a Joint Session of the Senate and House of Representatives, Governor Jay Inslee provided the first in-person State of the State in three years. Prior to the Governor's remarks, the Lt. Governor introduced many distinguished guests, including the members of the State Supreme Court and other statewide elected officials. I had forgotten that dignitaries representing partner countries also attend. The Ukrainian Consulate General received a prolonged standing ovation, conveying Washington state's support for the people of Ukraine.
A summary of the speech themes and pictures from the event can be found on the Governor's Medium page.
Governor Inslee spent much of his time focusing on the related challenges of housing and behavioral health. He stated the fundamental, underlying challenge is that our state does not have enough housing supply for all Washingtonians. He cited the need to build another 1 million housing units within the next 17 years to meet demand.
The Governor utilized the "faces in the gallery" tradition started by President Ronald Reagan in 1982, where a politician invites people impacted by programs or policies to be their guest in the gallery, and then they are called out in the speech. In this instance, Governor Inslee included a mom and daughter who benefited from the state's housing investments and noted the need to meet the needs of so many other families.
While promoting his proposed $4 billion housing referendum that would need to be approved by voters, he urged swift action rather than addressing the housing crisis "bit by bit."
Representative Peter Abbarno of the 20th legislative district provided the Republican response to the State of the State. He focused on Republican priorities of affordability, public safety, education and housing/homelessness. He also spoke to the challenge of securing child care throughout the state. He shared his family's stress with finding affordable child care when his children were born.
Budget Hearings
This week's major committee focuses were public hearings on the operating, capital and transportation budgets. On Wednesday, the House Appropriations Chair noted 175 individuals were signed up to testify on various parts of Governor Inslee's proposed budget. I did not get the number from the Senate Ways and Means Committee, but I would guess their list was just as long.
Both operating budget public hearings opened with an overview of Governor Inslee's proposed budget by the Director of the Office of Financial Management, David Schumacher. Some challenges that will impact the budget include:
The transition from COVID-19 infusion of federal dollars in prior years to more "typical" budgets. We are seeing the ramp-down of many of these federal investments
Inflation is driving up costs
The state (and nation) is facing continued economic uncertainty
Recruitment/retention concerns with the workforce
Given these realities, Governor Inslee's budget prioritized what he considered the most pressing needs and to continue working on what is currently in motion, rather than starting new programs.
After watching two long nights of public testimony, a clear common priority arose – workforce. Almost every person testifying identified needs to address the workforce recruitment and retention concerns throughout nearly every sector.
Following this public process, much of the budget discussions will shift behind the scenes. It is certainly not too early to weigh in with budget writers about your priorities.
A procedural note – these budget hearings were my first experience participating in hybrid committee hearings and the switch from virtual to in-person testimony throughout both evenings was rather seamless. Kudos to the staff for their preparation to continue this accessibility.
House Brain Development and Early Learning Work Session
On Tuesday, Jan. 10, the House Human Services, Youth, & Early Learning Committee held a work session on brain development and early learning. As with all committee hearings and floor action, this work session can be rewatched on the TVW website.
The early learning section of the hearing starts at about the :22 minute mark in the recording with Dr. Patricia Kuhl from the University of Washington Institute for Learning and Brain Sciences (ILABS). Dr. Kuhl provided the committee with an overview of the critical and extensive research on infant brain development and the Labs' "science to practice" philosophy that provides a "what do we do about it" approach to what they have learned from their research. This includes programming related to the importance of "baby talk" and "parentese" on brain development (:39 minute mark). Rep. Jamila Taylor asked a critical question about the inclusion of parents of color, specifically black mothers, in the research and potential differences in "parentese" in black communities (:45 minute mark). Dr. Kuhl also provided insight from their bilingual brain studies (:52 minute mark) and reading group programs (:55 minute mark). Slides from the ILABS presentation can be found here.
Following Dr. Kuhl's presentation, Allison Krutsinger and Genevieve Stokes from the government affairs team at the Department of Children, Youth, and Families (DCYF) provided an overview of early learning programs and funding streams for the committee (1:04 minute mark). The presentation starts with an overview of child care, Early Achievers, ECEAP and Head Start. There were interesting discussions about the coordination between DCYF and OSPI and family supports, (1:30 minute mark) followed by family support and services including home visiting (1:38 minute mark) and a Fair Start for Kids update (1:41 minute mark). Slides from the DCYF presentation can be found here.
The DCYF materials contain a treasure trove of valuable data and a wonderful overview of early learning. It is another one I am going to file away for future reference.
What's On Deck for Next Week
The agenda for week two includes continued "work sessions" to educate and expose lawmakers to issues before their committees as well as a ramp-up of bill hearings.
Early Learning Work Session. On Wednesday, Jan. 18, the Senate Early Learning and K-12 Committee will hold a work session focused on:
Implementation of the Fair Start for Kids Act
Recommendations from the Child Care Collaborative Task Force
Workforce and compensation recommendations
Perspectives from child care providers and families
Hearing and Vote Expected on HB 1199. Summarized below, HB 1199 (Senn and Eslick) would prohibit certain limitations on the provision of center-based and family child care by various homeowner and other associations. It is scheduled for a public hearing in the House Housing Committee on Monday, Jan. 16, with a vote expected Thursday, Jan. 19.
Bills
Following is a brief summary of early learning related bills:
HB 1199 (Senn and Eslick). HB 1199 prohibits associations of apartment owners, homeowners associations, and associations of unit owners from restricting or limiting the use of a unit within the association for licensed family home or center-based child care. These associations may enforce other association regulations for child care providers that are identically applied to other residences and structures. Associations willfully violating this act may be subject to paying the provider a civil penalty up to $1000.
SB 5225 (Wilson, C.). SB 5225 aims to increase access to child care through several strategies. First, the bill provides child care subsidies for employees of child care centers or family home providers and caps copayments for these employees. The bill also provides access to child care subsidies for parents participating in a specialty or therapeutic courts and prohibits immigration status as a barrier to qualifying for child care subsidies for student parents.
SB 5316 (Wilson, C.). SB 5316 repeals statutes requiring applicants to child care and foster care entities to pay state and federal background check fees. Previously, applicants to child care and foster care facilities had to pay the costs for the Washington State Patrol and Federal Bureau of Investigation (FBI) background check fees. Last session, those fees requirements were eliminated and the state covered the costs. This bill would make state funding of those fees permanent.
SB 5332 (King). Prohibits cities, towns, and counties from authorizing or through inaction allowing for sanctioned or unsanctioned homeless outdoor encampments near schools and early learning facilities.
Child Care Development Block Grant (CCBDG) Increases. The Omnibus National Spending Bill signed into law by President Biden Dec. 29, 2022 provided a $1.9 billion (or 30%) increase to the CCDBG. The state of Washington is expected to receive an increase of approximately $27.5 million from Grant Year 2022 to Grant Year 2023.
On Jan. 10, the Center for Law and Social Policy released a state-by-state analysis of distribution estimates for the increased funding for the Child Care and Development Block Grant (CCDBG).
This increased funding will become part of state budget considerations.
2023 Legislative Information is Live!
Now that the 2023 Legislature has been sworn in, the legislative website has been updated to include contact and background information on each Senator and House member. Also included is access to calendars and schedules; committee schedules, agendas and documents; and other detailed information on committee membership and more.
A really cool feature is the ability to sign up for bill tracking for specific bills of interest. And, there is the ability to sign-in to testify in person or remotely, provide written testimony or let your position be known for the record. Note that if you want to testify either in person or remotely, you must sign-in at least an hour before the start of the hearing. This gives the staff time to figure out logistics.
Finally, as noted last week, TVW is a great resource to catch all legislative activity live or after the fact.
Bill Tracker: Key Early Learning Bills
As the legislative session progresses, our resource page will update with a weekly bill tracker. Please note that legislation changes quickly, so the version on our website may not represent a bill's latest version as it is published the Thursday of each week.